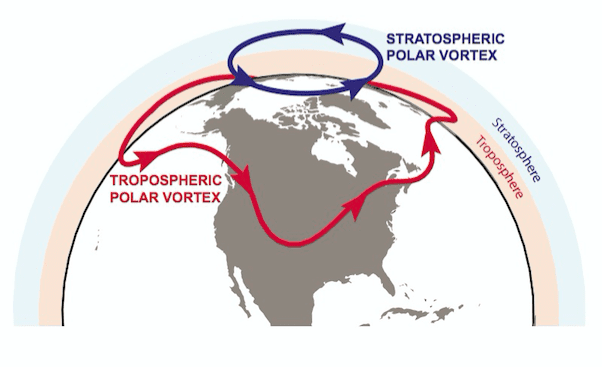 Polar vortices are a prominent winter feature in the atmospheres of Earth. There are distinct stratospheric and tropospheric polar vortices (What is a polar vortex?), with the stratospheric polar vortex playing a key role in ozone depletion. The stratospheric vortex can also influence surface weather (including extreme events), although extreme surface weather events are often related to transient, localized displacements of the edge of the tropospheric polar vortex.
Polar vortices are also observed on other planetary bodies, including Mars, Venus, and Saturn's moon Titan. We are exploring the structure and related tracer transport of polar vortices on Mars and Titan.
REVIEWS
Waugh, DW, Fluid Dynamics of Polar Vortices on Earth, Mars, and Titan, Annual Review of Fluid Mechanics 55, 2023.
Mitchell, D.M. RK Scott, WJM Seviour, S Thompson, DW Waugh, N Teanby, ER Ball, Polar vortices in planetary atmospheres. Rev. Geophysics, 2021
Waugh, D.W, A Sobel, L.M. Polvani, 2016: What is the Polar Vortex and how does it influence weather? Bulletin American Meteorological Society, 98, 37-44.
The Polar Vortex: Meshing and Stripping the Gears of the Atmosphere
MARS
Toigo, A., D.W. Waugh, S. Guzewich, Atmospheric Transport into Polar Regions on Mars in Different Orbital Epochs, Icarus, 347, 113816, 2020
Waugh D. W., A.D. Toigo, S.D. Guzewich, 2019, Age of martian air: Time scales for martian atmospheric transport Icarus, 317, 148-157.
Toigo, A.D, D. W. Waugh, and S. D. Guzewich, 2017, What Causes Mars' Annular Polar Vortices? Geophys. Res. Lett. to 44, 71-78. doi.org/10.1002/2016GL071857
Seviour, W.J.M, D.W. Waugh, R.K. Scott 2017, The Stability of Mars' Annular Polar Vortex, J. Atmos Sci., 74, 1533-1547. doi.org/10.1175/JAS-D-16-0293.1
Waugh D. W., A.D. Toigo, S.D. Guzewich, S.J. Greybush, R.J. Wilson , L. Montabone, 2016: Martian Polar Vortices: Comparison of Reanalyses, J. Geophysical Res. -Planets, 121.
TITAN
Shultis, J, DW Waugh, AD Toigo, CE Newman, NA Teanby, J Sharkey, Winter Weakening of Titan's Stratospheric Polar Vortices, The Planetary Science Journal 3 (4), 73, 2022
GENERIC PLANETS
Guendelman, I., Waugh, D.W. and Kaspi, Y., 2022. Dynamical regimes of polar vortices on terrestrial planets with a seasonal cycle. The planetary science journal, 3(4), p.94.
Guendelman, I., Waugh, D.W. and Kaspi, Y., 2021. The emergence of a summer hemisphere jet in planetary atmospheres. Journal of the Atmospheric Sciences, 78(10), pp.3337-3348.
See more polar vortex papers.