Writing succinct, scannable content for the web is key. It makes your website easier to read, more likely to be read, and more likely to be accessible to all users.
The Nielsen Norman Group suggests to write 50 percent less of the text you would use in a hardcopy publication. Why? Visitors to your website are usually looking for some very specific information. It's your prerogative to present that information easily to them.
Web Writing Basics
Here are a few simple ways to effectively write for the web:
Write clear and simple content that is easy for everyone to read on any device. Even though this is a university, keeping your language jargon-free and easy for a high schooler to read makes the text more accessible. Text your text with free readability tests.
"Invert the pyramid." Place the most important information at the top of the paragraph and the page.
Use headings to break up your content. Use H2 for headings within your text, and any subsections under those should use H3 or just bold text. Please note: older content may start with H3 instead of H2, as it was grandfathered in. If you're making updates, please feel free to change the heading sizes.
Keep paragraphs to under three sentences and covering just one topic.
Keep sentences to less than 20-25 words whenever possible.
Wherever possible, use lists instead of paragraphs to make your content easier to scan.
Write in active voice instead of passive voice. (Ex: write "The department was formed in 1975", instead of "Formed in 1975, the department…".)
F-Shaped Pattern for Reading Web Content
In research on how people read websites the Nielsen Norman Group found that 79 percent of their test users always scanned any new page they came across; only 16 percent read word-by-word.
Eye-tracking visualizations show that users often read web pages in an F-shaped pattern: two horizontal stripes followed by a vertical stripe.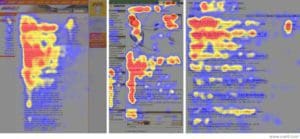 Keep in mind that users won't read your text thoroughly in a word-by-word manner.
The first two paragraphs must state the most important information.
Start subheads, paragraphs, and bullet points with information-carrying words that users will notice when scanning down the left side of your content in the final stem of their F-behavior.
Further Reading
We have additional tips and guidelines on our Web Writing Style Guide page.
Following these guidelines is important, so that we maintain consistency across Krieger School websites, observe best practices for the web, and remain in compliance with Johns Hopkins University brand guidelines.