Transporting Chemicals
Use secondary containment when transporting chemicals to a different location (i.e., a bucket with a handle).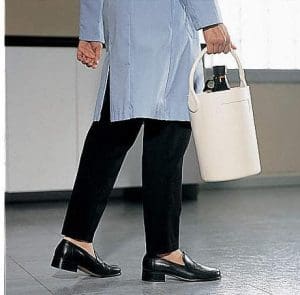 A cart should be used when transporting multiple or heavy containers. Do not place incompatible materials in the same container.
Make sure all chemicals are properly labeled.
Be mindful of any hazards in case of a spill (have MSDS sheets handy).
Wear proper PPE for the chemicals being transported.
Make sure your travel path is clear of any obstacles.
Carry NMR tubes/samples for analysis in a secondary container (beaker, flask).
Avoid touching doors/door handles on your route while wearing gloves.
Ask someone to come along and help open any doors.