We strive to better understand how planet-scale observables are fundamentally controlled by the behavior of atoms at extreme conditions. Using X-ray scattering techniques, we probe interactions of nuclei and electrons at high pressures and temperatures. Our work informs the physical properties and dynamic history of the Earth and other planets both within and without our solar system.
A common theme for many of our research projects is atomic mobility. As we push the boundaries of high pressure and fast timescales, kinetics and rate-dependent phenomena control experimental access to properties such as phase stability, phase transformation mechanisms, and defect propagation.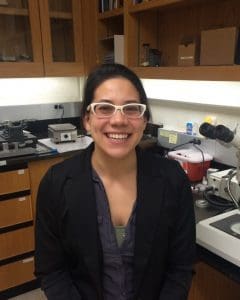 Assistant Professor June Wicks is based in the Dept. of Earth & Planetary Sciences (Olin Hall) and the Hopkins Extreme Materials Institute (Malone Hall), and also holds a joint appointment in the Dept. of Mechanical Engineering.
News & Announcements
Wicks Lab graduate student Tyler Perez will speak at the 2020 Consortium for Material Properties Research in the Earth Science (COMPRES) annual meeting, which will be held virtually on August 14. He'll present on his experimental work to determine the thermal conductivity of iron at high pressures, which is necessary to develop heat transport models… Read more »
---
Congratulations to Dr. Melissa Sims on her newly awarded NSF Earth Sciences Post-Doctoral fellowship, "Windows into Ancient Impacts: Examining Meteoritics Research with New Approaches"!  With the award, Dr. Sims will be carrying out research and educational activities with collaborators in Wicks Lab, the Earth and Planetary Sciences department at Johns Hopkins, and Lawrence Livermore National… Read more »
---
Congratulations to Wicks lab grad student Zixuan Ye, who will be working this summer at Lawrence Livermore doing data analysis for shock decay experiments of MgO, as well as developing a model for calculating thermal emissions of semi-transparent materials.
---