Our research interests are in the physical properties and dynamic history of the Earth and other planets, both within and outside our solar system. To better understand how planet-scale observables are fundamentally controlled by the behavior of atoms at extreme conditions, we use X-ray scattering techniques to experimentally probe interactions of nuclei and electrons at high pressures and temperatures.
A common theme for many of our research questions is atomic mobility. As we push the boundaries of high pressure and fast timescales, the  experimental measurements we make are inherently sensitive to rate-dependent phenomena.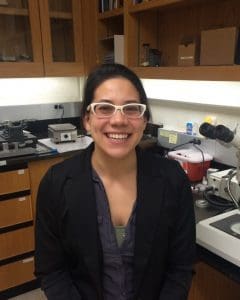 Assistant Professor June Wicks is based in the Dept. of Earth & Planetary Sciences (Olin Hall) and the Hopkins Extreme Materials Institute (Malone Hall), and also holds a joint appointment in the Dept. of Mechanical Engineering.
News & Announcements
Dr. Hy Bui is the Sr. Principal Scientist and Head of Transversal and Physical Chemistry of Applied Research at L'Oréal. We are happy to have him join us for the Mineralogy Lecture Series to talk about the rheology in cosmetics, and more specifically how material science allows us to develop better cosmetic products. If you… Read more »
---