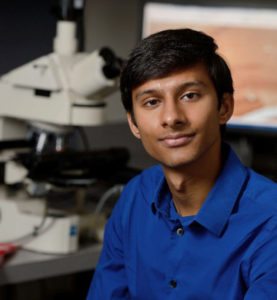 Ansh Bhammar (left) spent a couple of summers during high school as a recreational therapy volunteer at a VA hospital in his native Boston. He specifically worked with Alzheimer's patients, engaging them in a range of activities: playing catch, taking walks, reading, doing puzzles.
"Working with veterans, I would hear some incredible stories," the junior neurology major says. But there was a sadness to it all as well. These patients—most in their 70s and 80s—had profound cognitive impairment. "They wouldn't remember me or my face, and I would always have the same conversation with the same people," Bhammar says. "They'd be happy to see a new face even though they've been seeing me every day for two months." And Alzheimer's—now the sixth leading cause of death in the country—is degenerative and fatal.
This interest in seniors, combined with a long fascination with the human brain—what Bhammar calls, "a universe saturated with mysteries"—has him aiming for a career in geriatric neurology. And it's also why he's doing research in Professor Michela Gallagher's lab in the Department of Psychological and Brain Sciences, which is focused on neurocognitive aging. His research is made possible with support from the Phyllis F. Albstein Fund.
In the lab, Bhammar no longer works with seniors, but instead, with rats standing in for humans. The rodents are separated into three categories: young rats, older rats that don't show any cognitive impairment, and older rats that do show impairment. (The rodents are subject to a memory test of sorts in a pool of water to determine their cognitive state.) It's Bhammar's job to examine the thinly sliced brains of all three types of rats looking for differences across the groups.
What to look for? Well, our brains operate with a balance between neural excitation (a lot of synaptic activity) and inhibition (reduced synaptic activity). Might age-related cognitive impairment be the result of an excitation/inhibition imbalance? Gallagher's most significant finding to date suggests as much, as she's shown that excessive hyperactivity in one section of the hippocampus may account for memory loss. Bhammar examines brain slices that have been dyed to make the presence of certain genes stand out—genes whose presence in small amounts or greater amounts model whether a section of the brain was subject to excitation or inhibition. So far, preliminary findings indicate that brains of older rats without cognitive impairment show increased neural inhibition.
"This is all a hypothesis at this point, but in order to maintain successful cognition you may need to increase the amount of inhibition in certain areas of the brain," Bhammar says. "When those ratios go haywire—that's what could lead to cognitive impairment. But we've got a long way to go before we can actually conclusively say that."
(from "Field Notes", Johns Hopkins University Arts and Sciences Magazine. Fall 2017)