4th Annual Billie Holiday Jazz Tribute Concert
September 10, 2022
@
2:00 pm
–
6:00 pm
EDT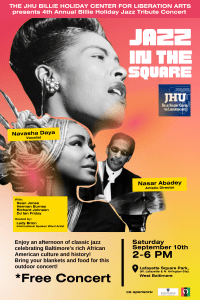 Join the Billie Holiday Center for Liberation Arts and Baltimore communities for The 4th Annual Billie Holiday Jazz Concert at Lafayette Square. The event will feature Navasha Daya (vocals), Nasar Abadey (drums), Sean Jones (trumpet), Herman Burney (bass), Richard Johnson (keys), DJ Ian Friday, Brinae Ali (tap dancer), and will be hosted by Lady Brion.
The performance is FREE and open to the public.
This event is a musical celebration of the rich and important legacy of Billie Holiday. Located at Lafayette Avenue between Arlington Avenue and Mount Street, Lafayette Square is an anchor of Baltimore's African American religious life, hosting St. James Episcopal Church, one of the city's three black congregations dating its origins before the 1830s, St. John's AME Church, Metropolitan Methodist Church, and Star of Bethlehem Spiritual Temple.
Two of the oldest African American Christian congregations in the United States, Bethel African Methodist Episcopal and Sharp Street United Memorial are only four blocks away. Billie Holiday herself lived on Argyle Avenue, just off of Lafayette, and the fountainhead of the City's jazz heritage was at the Royal Theater (1922-1971), located at Pennsylvania and Lafayette Avenue.