The Donald Bentley Annual Memorial Lecture takes place every April. The Donald Bentley Annual Memorial Lecture is the Billie Holiday Project's capstone annual public lecture to honor the life of one of Baltimore's promising young leaders who lost their life in the violence crisis endemic to the city for more than thirty years. Each year, the Billie Holiday Project invites a distinguished arts practitioner and intellectual to address topical, historical, or philosophical issues connecting the work of the arts to the renewal and revitalization of civic life.
The Donald Bentley Annual Memorial Lecture is a unique platform to drive debate and critical reflection on the role of the arts in our everyday lives and in our imagining of a future just world.
History of the Lecture
"I created the Donald Bentley Memorial Lecture to commemorate the life of my good friend Donald Bentley, murdered in 1989. Donald was gregarious and charismatic, and he always talked about running for public office to help to implement dynamic change in a city that we both loved.  Donald joined a group that I started called The Oxfords and we created recreational activities designed to have a good, safe time in the public spaces available to us in Baltimore during the 1980s.  Along with dozens of our mutual friends, I was devastated by Donald's death, a widespread tragedy throughout Baltimore, then and now, for at least 40 years."
"Recognizing that the crisis of deadly street violence in the city was owed to structural inequality, I founded the Billie Holiday Center for Liberation Arts to begin a regular process of sharing resources from the arts and sciences of the Homewood Campus with other portions of the city. Each year we are sponsoring a free public lecture that is designed to assist in our work to stimulate a new civic commons in Baltimore, a cohort that recognizes the profundity of Baltimore's human resources and emphasizes the values of reciprocity, mutual recognition, sharing, collective responsibility and hard work to promote reparative equity and safeguard the youth."
–Lawrence P. Jackson, founding director of Billie Holiday Center for the Liberation Arts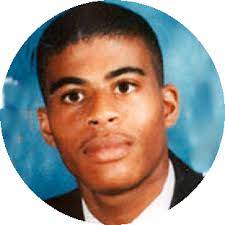 Donald V. Bentley
Donald V. Bentley was a rising sophomore at Morehouse College in the summer of 1989 when he was shot during an armed robbery on Maryland Avenue. The murder remains unsolved to this day. A popular, charismatic young man, Donald had graduated from the Gilman School for boys, where he excelled at public speaking, track, and football. He was the son of Helen Ellen and Robert Bentley, a schoolteacher and steel foundry foreman, respectively, and he grew up in a tight-knit community on Wilvan Avenue in Northwest Baltimore. He and his family attended First Baptist Church on Liberty Heights Avenue. Donald's inquisitive nature, his commitment to improving the fortunes of the downtrodden, and his interest in Pan-Africanism have been memorialized in many different endeavors since his passing, but particularly in the Donald Bentley Food Pantry. He was an inspiration to everyone who knew him.
2022 Memorial Lecture, featuring Anna Deavere Smith
The program, "Glimpses of Baltimore in Change," was part performance, part social commentary on Black life in Baltimore. Smith will discuss and depict her life and education in Baltimore, especially during the transition from segregation to desegregation. The program for 2022 was partnered with the Baltimore Museum of Art and supported by the JHU Center for Africana Studies, Department of English, Department of History, Alexander Grass Humanities Institute, and Beloved Community Services Corporation.
Anna Deavere Smith
Anna Deavere Smith is an actress, playwright, teacher, and author credited with having created a new form of theater. Best known for crafting more than 15 one-woman shows drawn from hundreds of interviews, Smith turns these conversations into scripts and transforms herself onstage into an astonishing number of characters. President Obama awarded Smith the National Humanities Medal in 2013, and in 2015 she was named the Jefferson Lecturer, the nation's highest honor in the humanities. Additional honors include the prestigious MacArthur "Genius Grant" Fellowship, The Dorothy and Lillian Gish Prize for achievement in the arts, the George Polk Career Award in Journalism, two Tony nominations, and several honorary degrees. She was runner up for the Pulitzer Prize in Drama for her breakthrough play Fires in the Mirror. Her most recent play, Notes from the Field, look at the school-to-prison pipeline and injustice and inequality in low-income communities. Time magazine named it one of the Top 10 Plays of 2017 and HBO created a film adaptation in 2018. Smith's play Twilight: Los Angeles, 1992 was recently named one of the best plays of the last twenty-five years by The New York Times. Smith currently appears on ABC's hit series Black-ish and the ABC legal drama For the People. Previously she appeared in Nurse Jackie and The West Wing. Films include The American President, Philadelphia, and Rachel Getting Married. She is a professor at New York University's Tisch School of the Arts.
2021 Lecture
The 2021 lecture theme focused on African American mid-Atlantic performance art traditions and featured local author D. Watkins.
In partnership with: