The Helena Hicks Emancipation School at Baltimore's Historic African American Churches is a public program partnership of the Billie Holiday Center and several faith communities in West Baltimore. The monthly speaker series endeavors to bridge the intellectual life of Johns Hopkins University with historic Baltimore neighborhoods and cultural institutions. Named in honor of civil rights activist Helena Hicks, a veteran of Baltimore's earliest anti-segregation sit-ins of the 1950s, the series highlights African American scholars at Johns Hopkins whose recently published books explore questions of race, culture, history, inequality, and social change in the U.S., from the era of enslavement to the present.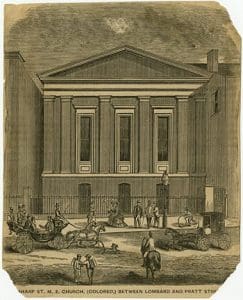 Why an ecumenical speaker series in West Baltimore?
Churches have been the centers of African American intellectual life for over two centuries. In the present political moment, historic African American churches with longstanding commitments to social justice – Bethel A.M.E., St. James Episcopal, Sharp Street, among others – remain particularly vital to the defense of personal liberties and collective freedoms in our city.
Guided by an ethical imperative to usher Hopkins' abundant resources out of the "ivory tower" and into the sanctuaries of liberation, the Helena Hicks Speaker Series of the Billie Holiday Center for Liberation Arts seeks to support Baltimore's oldest African American churches in fulfilling their time-honored roles as keepers of memory, sites of civil dialogue, and agents of ethical and intellectual advancement. By hosting scholarly events at multiple churches throughout the year, the Billie Holiday Center aspires to share Hopkins' human resources more equitably while also stimulating fellowship and the cross-fertilization of ideas across congregations.
---
Speaker Series
The Helena Hicks Emancipation School of the Billie Holiday Center for Liberation Arts at Johns Hopkins University brings the topics, questions, and methods of Black Studies out of the "Ivory Tower" and into the places of its origin – the community schools, organizations, cultural centers and houses of worship that nurtured 20th-century black social movements.
Alongside our community partners, we are pleased to present four mini-courses involving a virtual 40-minute presentation and a 20-minute Q&A session. The events will take place:
Registered participants of all mini-courses receive a certificate of completion from the Johns Hopkins University Billie Holiday Center for Liberation Arts: Helena Hicks Emancipation School.
Spring 2023 Series
Feb 15
Martha Jones
William Watkins and the Legal Rights Association of Baltimore
March 15
Didier Gondola
The Resurrection of Patrice Lumumba in Congolese Popular Painting
April 12
Nadia Nurhussein
The Memoir of Captain Harry Foster Dean and Maritime Pan-Africanism