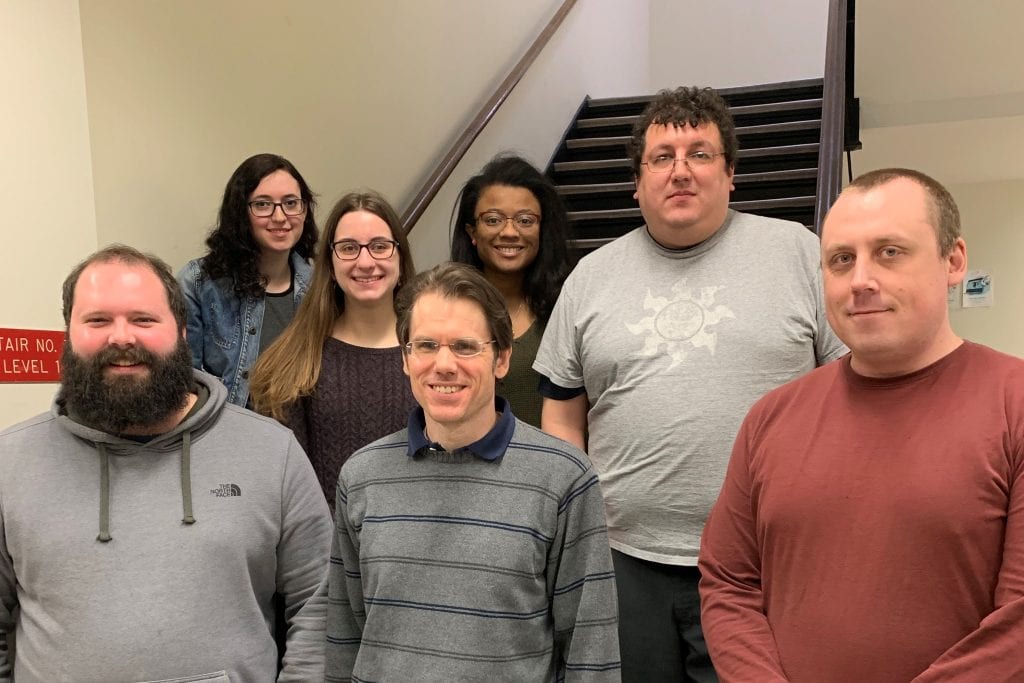 The Bragg Lab has several research interests focusing on ultrafast processes that underlie the behaviors of a range of light-responsive materials. An overarching goal of our work is to understand how structure or material architecture at the intra-, inter-, and supramolecular levels influence the properties and dynamics of transient excited and charge-separated states generated via molecular or material photoexcitation and thereby determine the nature, timescales, and efficiencies of processes initiated with light – such as bond formation, energy transfer, and charge separation. We are also excited about new and interesting ways to study these systems with light. Have a look at our website to learn more about us and our work!
News and Updates
4/9/19: Tylar awarded NSF graduate research fellowship. Congratulations, Tylar!
3/13/19: Jamie and Chana's comprehensive paper on cis-4TCE photophysics is accepted for publication in PCCP.
12/31/18: The group welcomes Rachel and Tylar to the lab!
9/18/18: Josh's pump-repump photochemical hole-burning paper is accepted for publication in JPC Letters.
8/30/18: Tim and Jamie's ultrafast studies of energy transfer in CPECs in collaboration with Ayzner Lab (Santa Cruz) is accepted for publication by JPC.
8/30/18: Jamie is hired as lecturer by JHU Chemistry Dept.
6/1/18: Tim awarded NRC postdoctoral fellowship to work with Ted Heilweil at NIST.
12/31/17: The group welcomes Ryan to the lab!
12/11/17: Jamie and Chana's poster wins second place at the JHU Optics and Photonics Conference!
11/29/17: Ken's paper on the dynamics of energy transfer in Al plasmonic nanoparticles is published in ACS Photonics.
10/11/17: Tim successfully defends his thesis and prepares for graduation!
07/21/17: Bragg and Klausen labs featured on the cover of Dalton Transactions!
7/1/17: Art is promoted to Associate Professor with Tenure!
5/8/17: Josh successfully defends his thesis and graduates! Accepts postdoc position with Bern Kohler at Ohio State!
12/31/16: The group welcomes Chana and Brandon to the lab!
10/6/16: Bragg lab FSRS perspective article makes the cover of JPC Letters!
Funding Sources