Early Levels of Representation in Reading
This project explores the early stages of visual word recognition, in which the stimulus word is processed to determine the identities and positions of the individual letters. We are studying the reading abilities of a patient with acquired dyslexia—a reading disorder resulting from brain damage—to gain insight into letter shape, identity, and position representations.
Patient LHD is a right-handed woman who was 69 years old at the start of testing in 2010. She holds an MBA and was an avid reader before she suffered a ruptured left posterior cerebral artery aneurysm in February 2007. This incident left her with extensive damage along the underside of the left-hemisphere (see Figure 1), complete blindness in her right visual field, and severely impaired reading.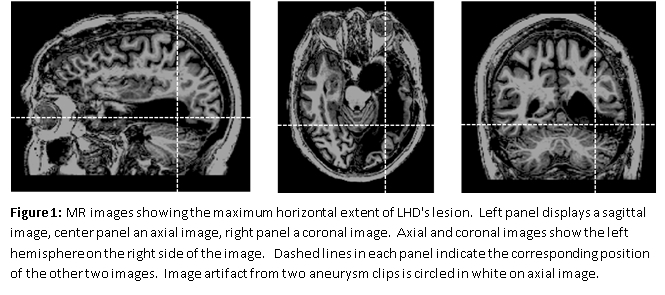 LHD's reading is slow and inaccurate. In single-word reading tasks she makes letter substitution errors (see Table 1), and her responses include many letter perseverations (erroneous repetitions of letters from prior words). LHD's errors arise due to a limited ability to map letter shape representations onto their corresponding abstract letter identities, resulting in incorrect identities being selected (see Figure 2).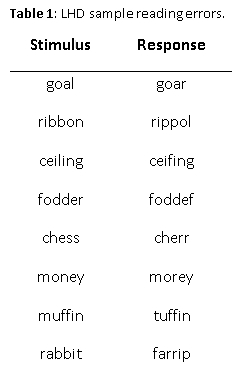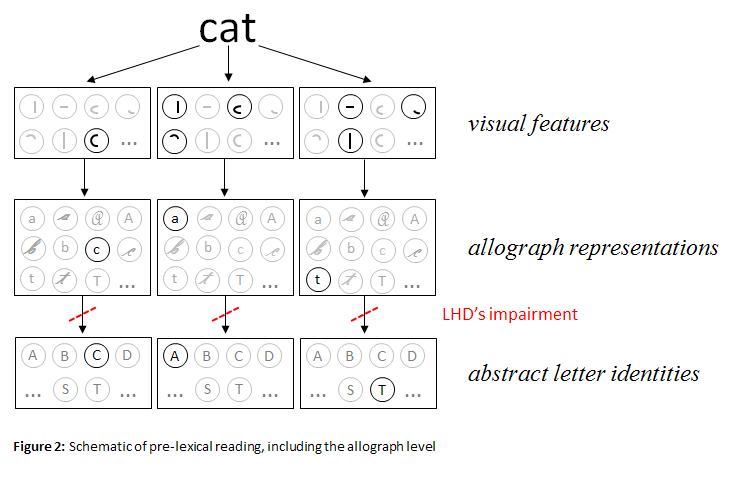 Previous case studies of acquired dyslexia have led to proposals of a level of stored visual representations ("allographs") that are accessed before letters are identified. Through analysis of LHD's reading errors we provide additional support for allographs in pre-lexical reading and explore the characteristics of these representations. Word reading involves activation of multiple allographs simultaneously; we claim that allograph representations are position-specific. Position representations keep track of the order of allographs in a word, for example to differentiate the word BEARD from BREAD. We found that allograph position is defined relative to the beginning and end of the word, irrespective of word length. This allows us to explain the patterns of LHD's perseveration errors: allographs from words she has read persist in their positions and can be mistakenly selected for further processing when she reads a subsequent word. We investigated the frame of reference governing the positions of allographs, finding that the beginning and end of the word are defined based on canonical word-orientation, rather than spatial properties such as left and right. This study of allograph position representation follows from other research in our lab investigating letter position representations in spelling (Fischer-Baum, McCloskey & Rapp, 2010) and reading (Fischer-Baum, Charny & McCloskey, 2011).