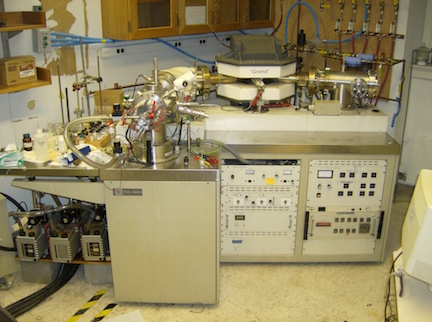 This is a high-resolution, double focusing magnetic sector instrument (BE geometry) with an effective mass range of 1-2750Da at full (8kV) acceleration voltage. It is equipped with FAB ionization, utilizing a ceasium ion gun and provides mass spectral for delicate thermally labile samples. FAB ionization requires that the sample is mixed with a suitable matrix (typically 3-nitrobenzyl alcohol – mNBA) and introduced into the ion source on a target probe. At present, full scan and accurate mass FAB analyses comprise the bulk of the work conducted using this instrument.
This instrument was installed at the facility and was installed in 2007, at which time it was overhauled and upgraded to utilize the same modern MSS MasSpecII32 Windows based data system that is used by the VG70S instrument. The instrument is operated by the Facility Manager on a service basis. Data is returned to users electronically by e-mail in Adobe Acrobat pdf format.
View the guidelines for sample preparation and submission, along with downloadable sample submission forms.
This instrument is located in Room B13, Remsen Hall.