The Effects of DNA Lesions on Repair
Many damaged nucleotides are repaired by base excision repair (BER). DNA polymerase (Pol ) is over expressed in many tumor cells and plays a vital role in BER. Recently, we determined that two lesions (DOB, C4-AP) that are produced in DNA by potent antitumor agents, irreversibly inactivate Pol . Our ability to chemically synthesize oligonucleotides containing DOB or C4-AP greatly facilitated these investigations. Determination that C4-AP and DOB inactivate a repair enzyme that is over expressed in tumors provides chemical insight into why these drugs are so cytotoxic and has provided the inspiration for the design of inhibitors of DNA repair enzymes.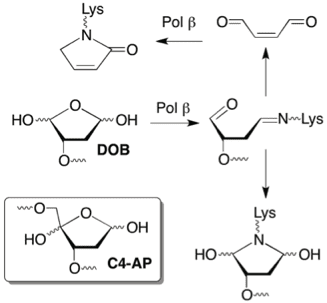 For relevant publications see:
• Irreversible Inhibition of DNA Polymerase by an Oxidized Abasic Lesion. Guan, L.; Greenberg, M. M. J. Am. Chem. Soc. 2010, 132, 5004-5005.
• Inhibition of Short Patch and Long Patch Base Excision Repair by an Oxidized Abasic Site. Guan, L.; Greenberg, M. M. Biochemistry 2010, 49, 9904-9910.
• Long Patch Base Excision Repair Compensates for DNA Polymerase Inactivation by the C4′-Oxidized Abasic Site. Jacobs, A. C.; Kreller, C. R.; Greenberg, M. M. Biochemistry 2011, 50, 136-143.
• DNA Polymerase Inactivation by Oxidized Abasic Sites. Stevens, A. J.; Guan, L.; Bebenek, K.; Kunkel, T. A.; Greenberg, M. M. Biochemistry 2013, 52, 975-983.